Taycan Collection. 100% electrifying. 100% Porsche.
Clear lines and smart details, urban looks and functional features – the collection for the first all-electric Porsche makes clear what the new Taycan will bring to the streets of metropolises around the globe: intelligent technology, uncompromising design and electrifying enthusiasm in every way.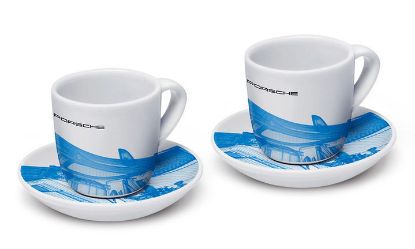 WAP0506010LTYC
Each set consists of two espresso cups and saucers. Porsche exclusive porcelain shape, inspired by the design of the Porsche Crest. Design by Studio F. A. Porsche limited to 5,000 sets. Consecutive limited edition number on the bottom. In high-quality gift packaging. Dishwasher-safe.
WAP606XXX0LTYC
Padded jacket with hood. Water column 3,000mm and breathability 3,000g/m²/24h. Front, sleeves and hem on back made of hard-shell material with fleece lining. Hood, shoulders, back and side panels in padded, contrasting woven chambers. With laser-cut zipped side pockets. Cuff-adjusters with concealed press studs. Decorative accents: reflective 'PORSCHE' logo on the breast and perforation on the cuff-adjusters. 100% polyester. In white/pink.